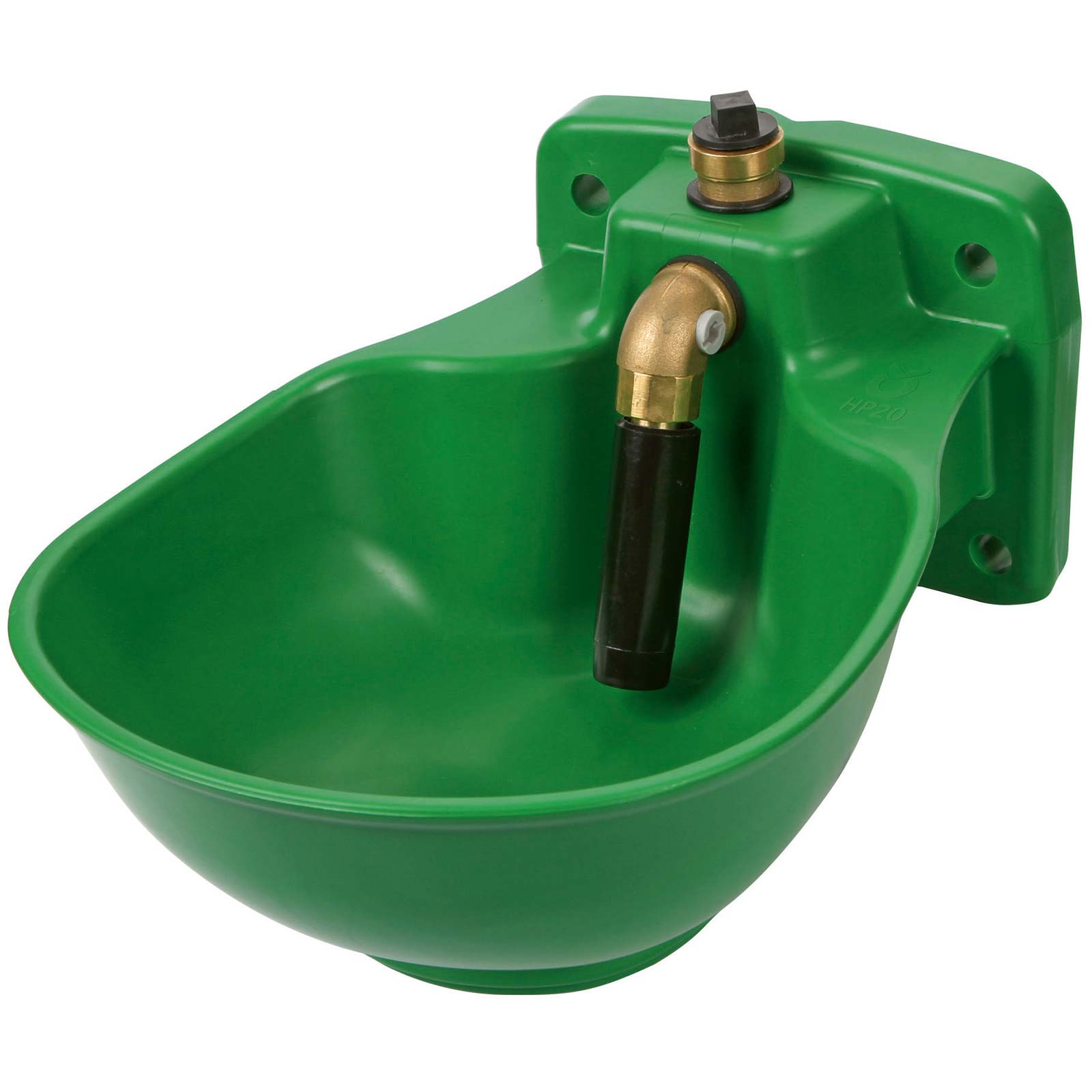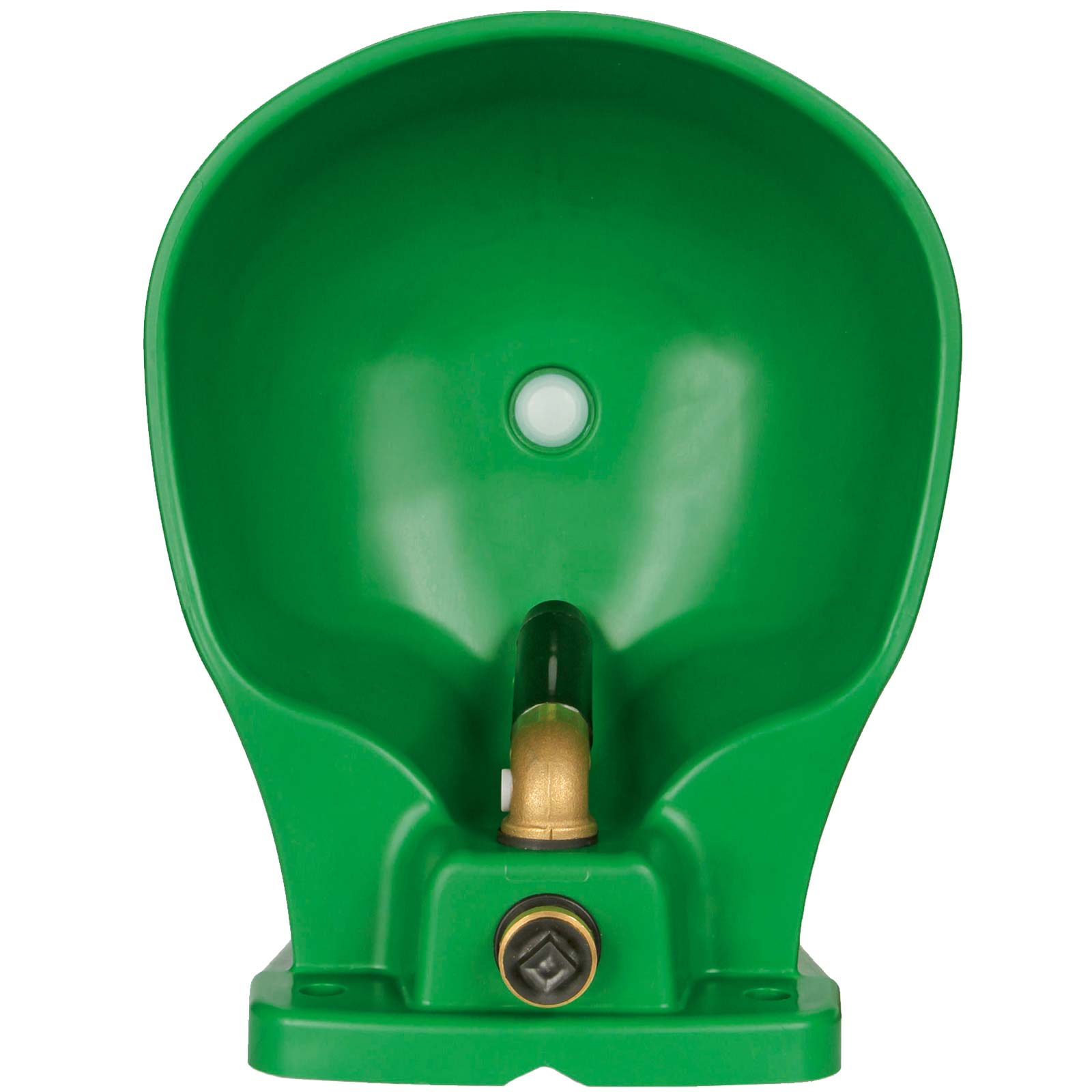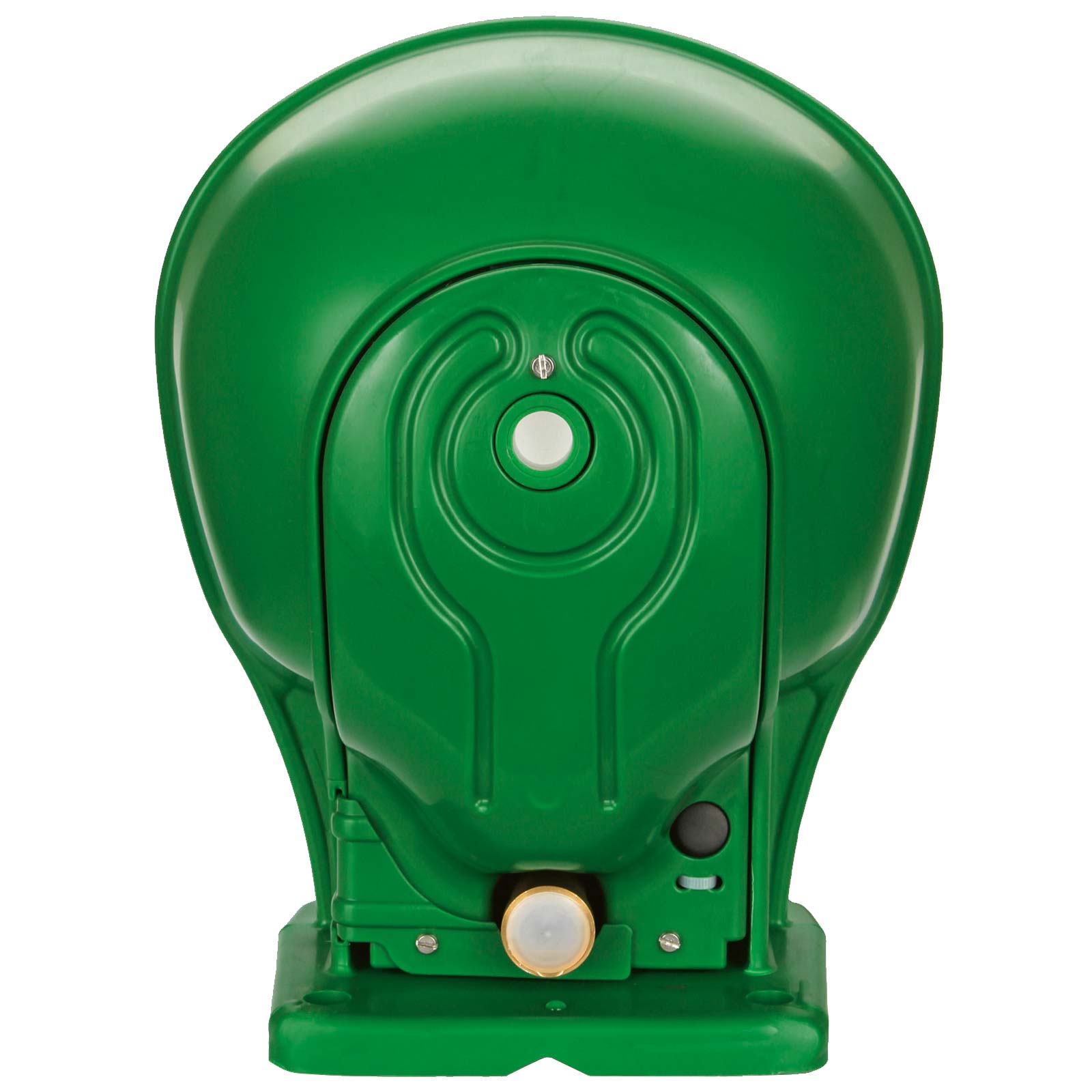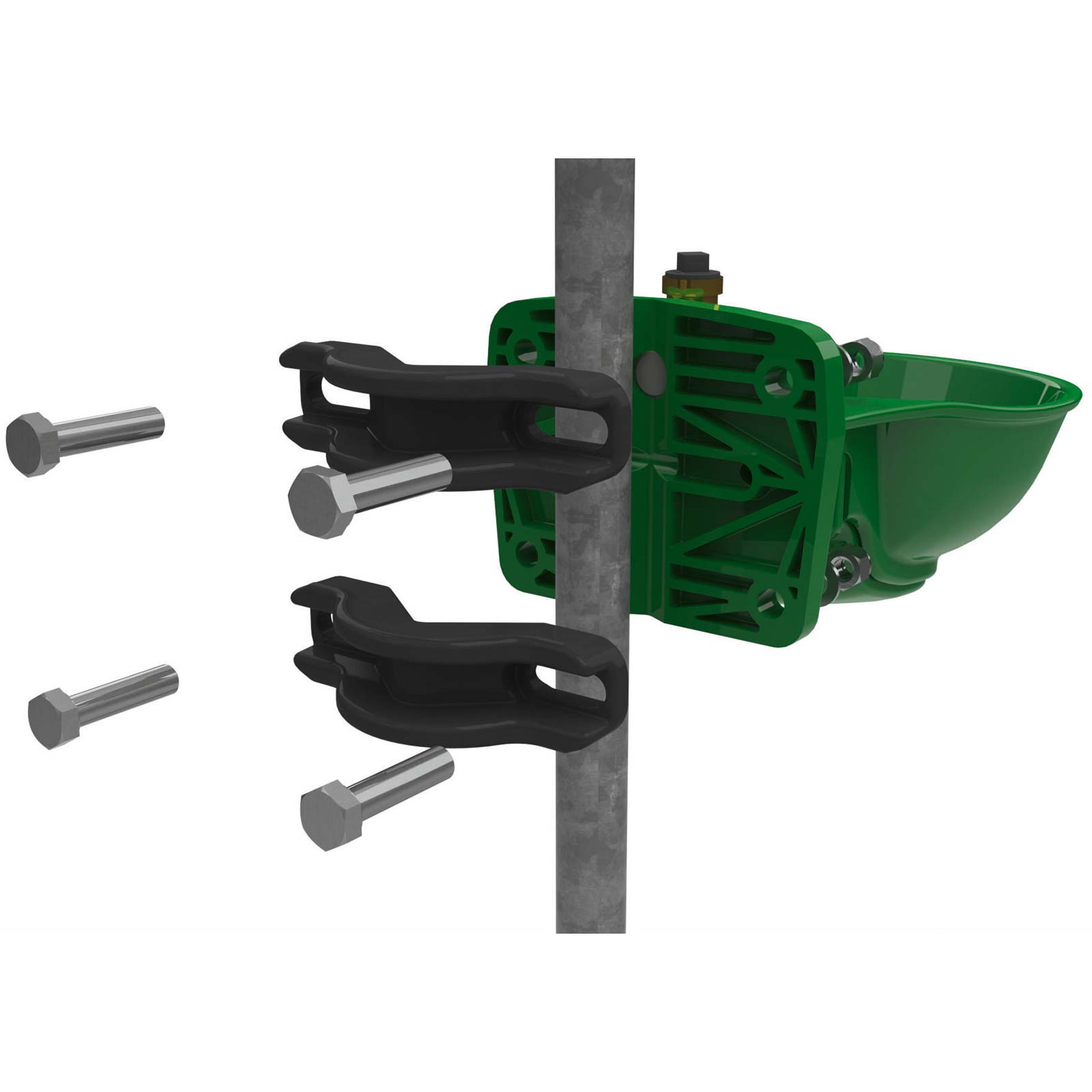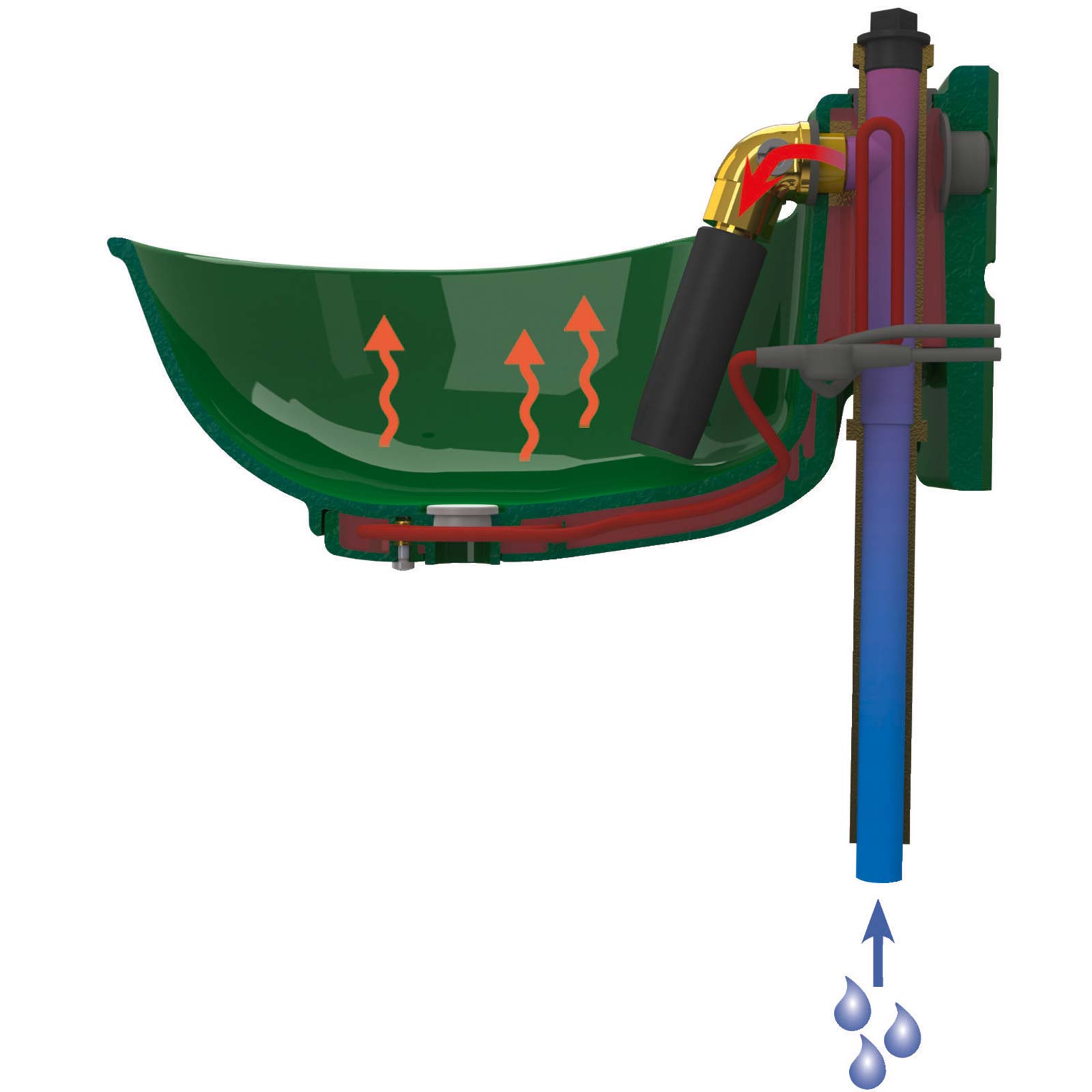 Picture similar to product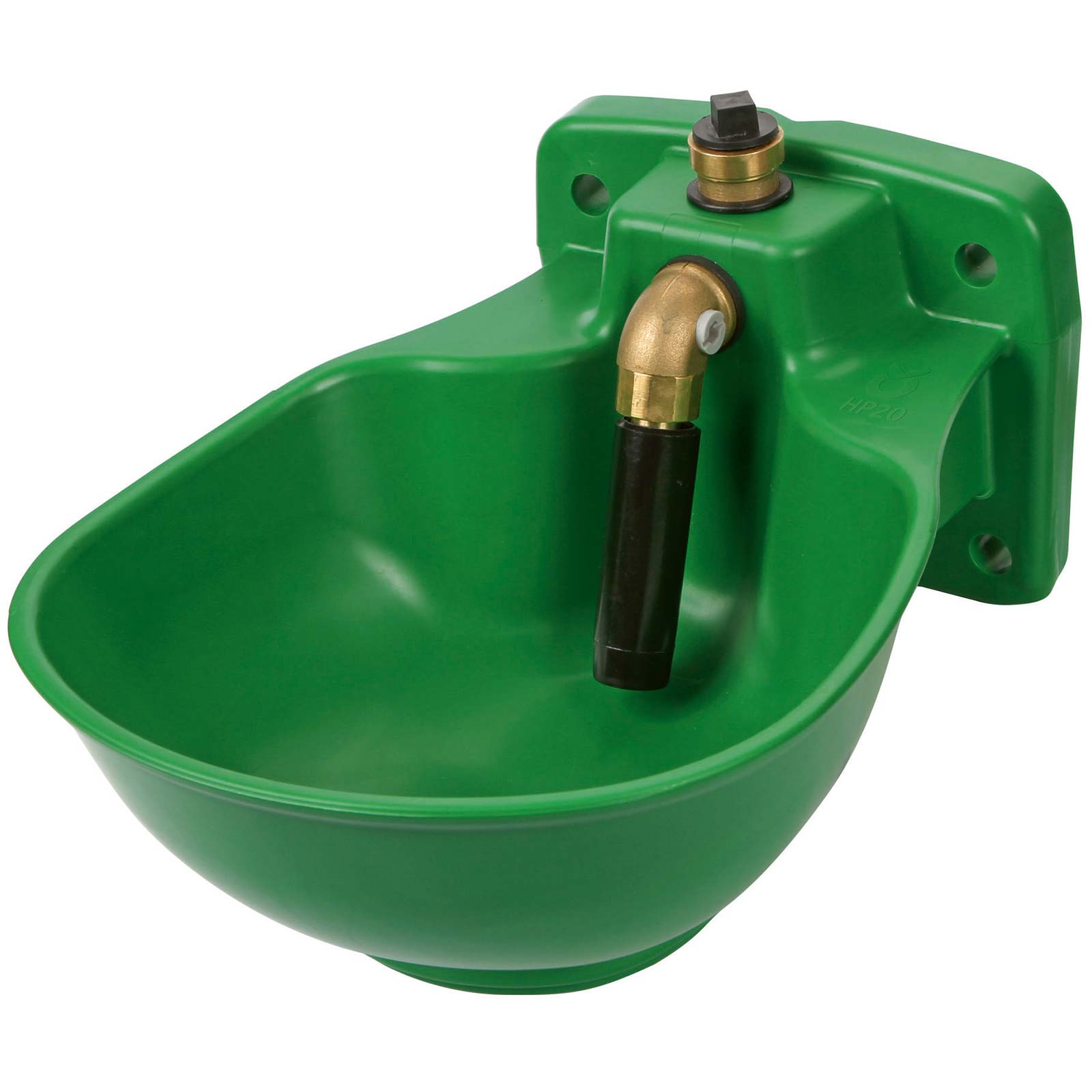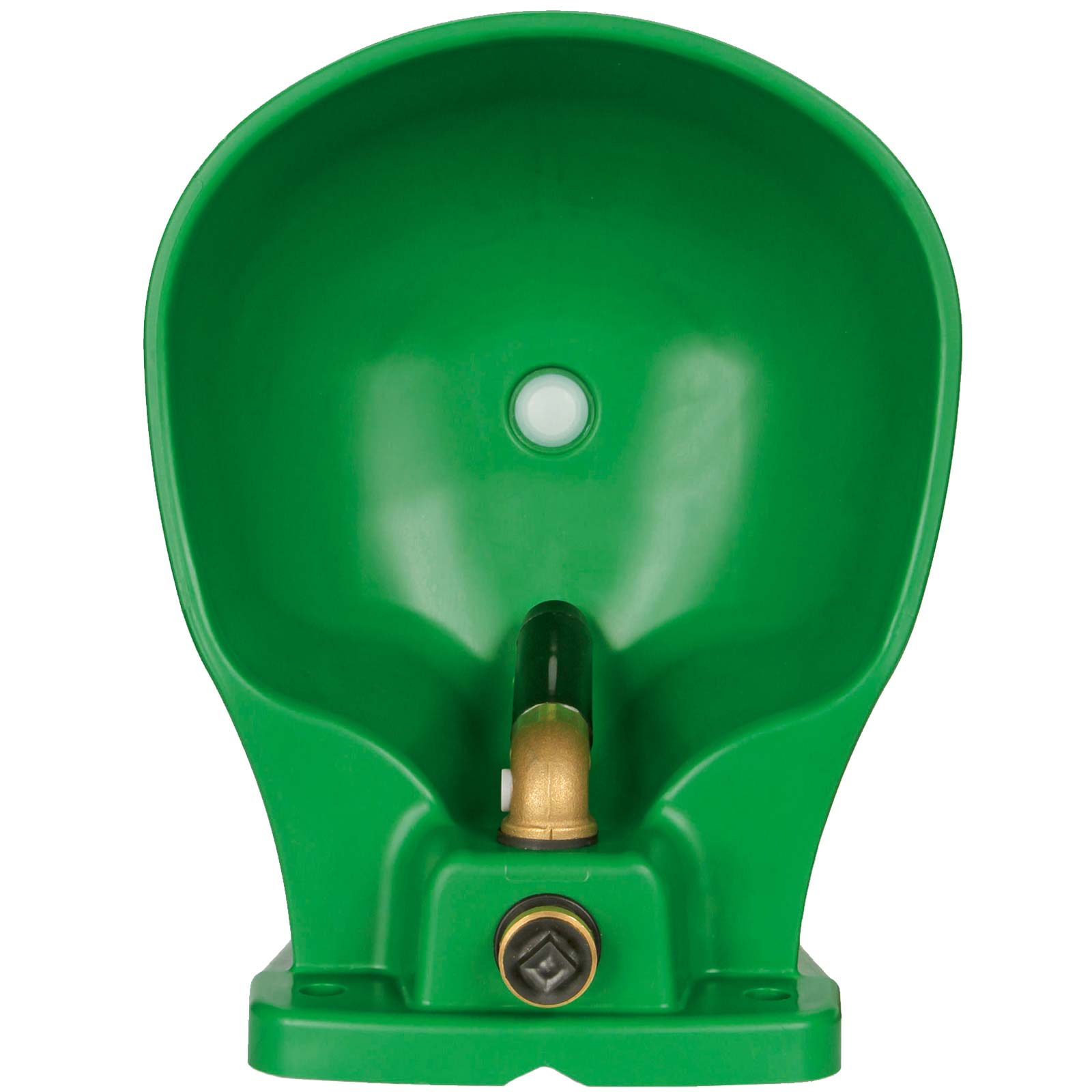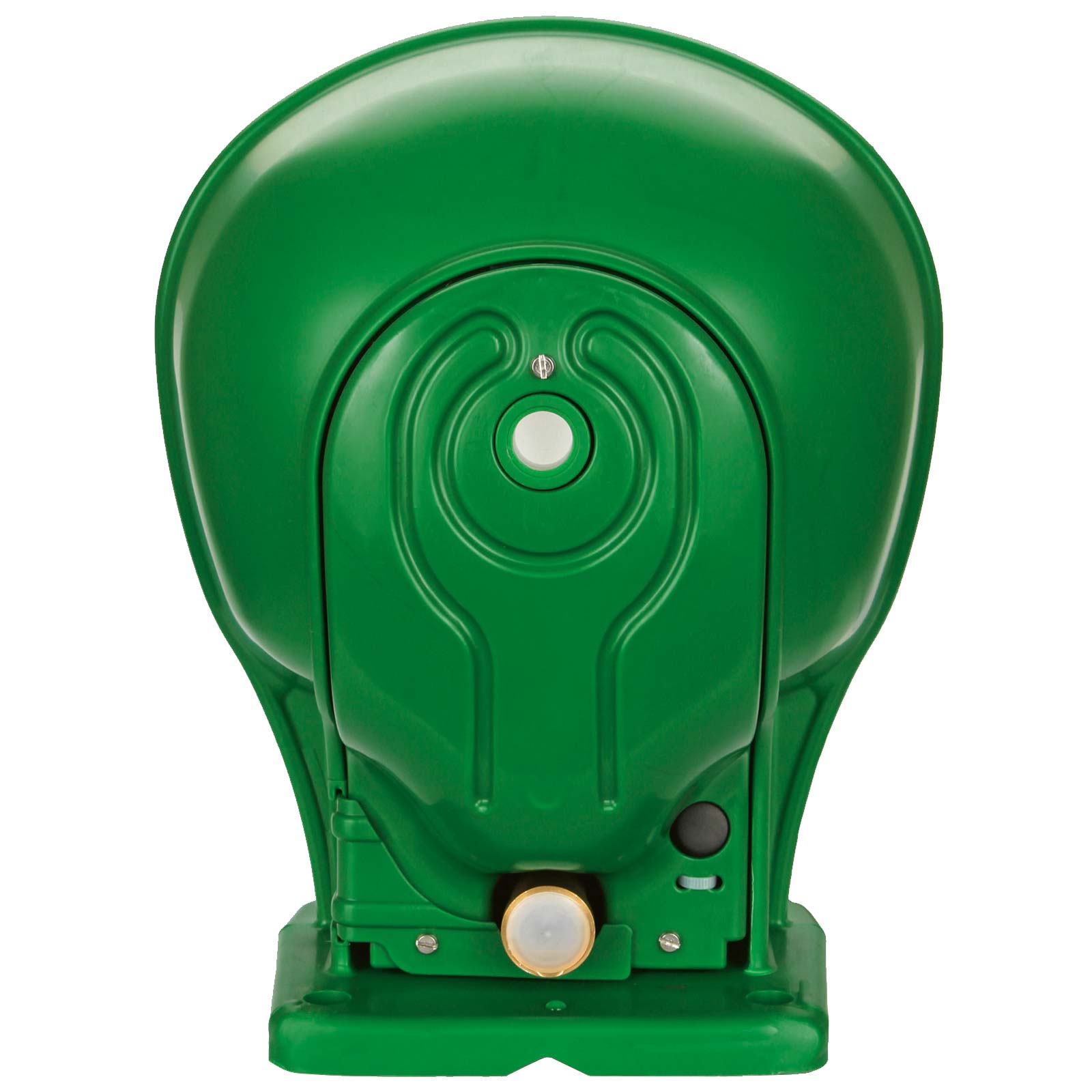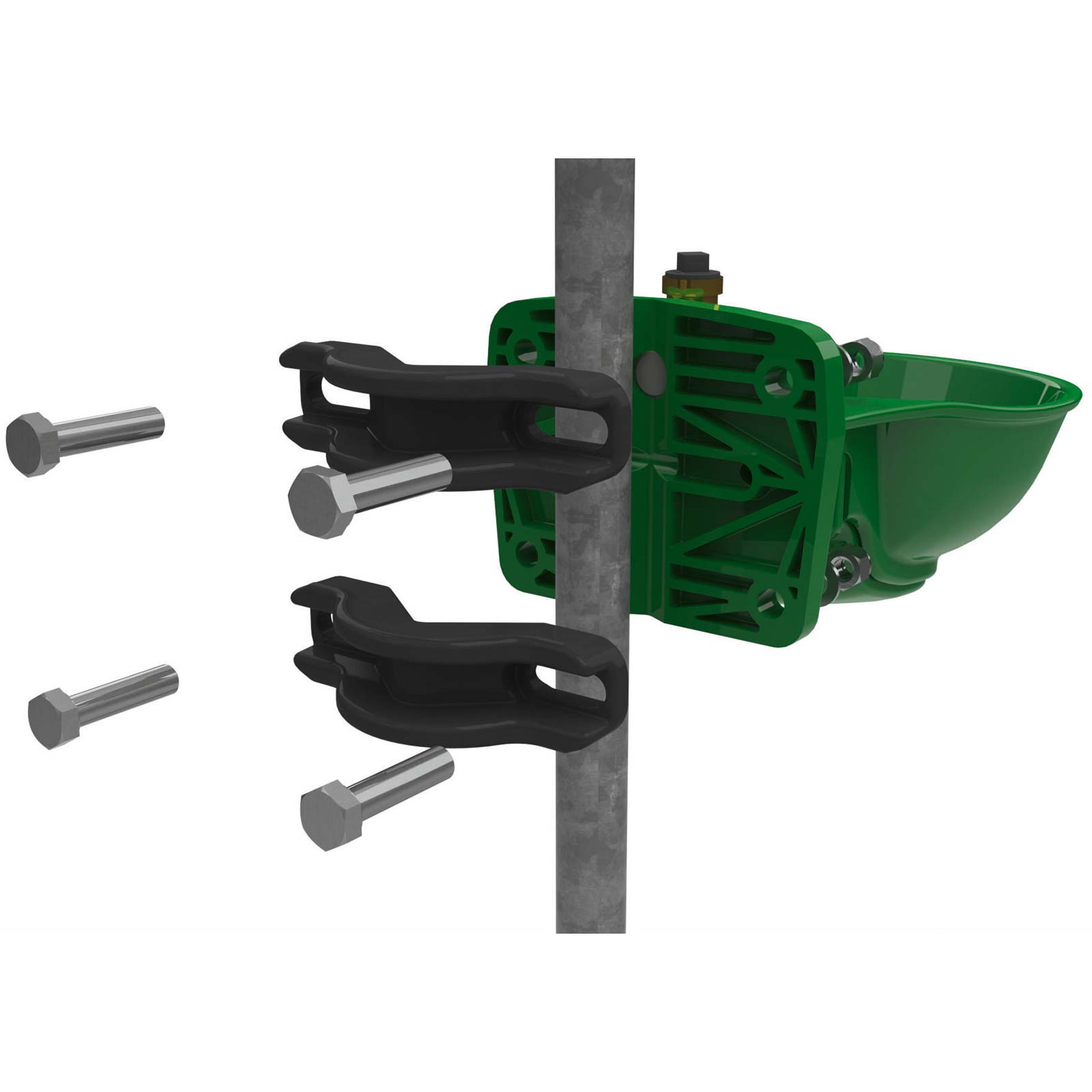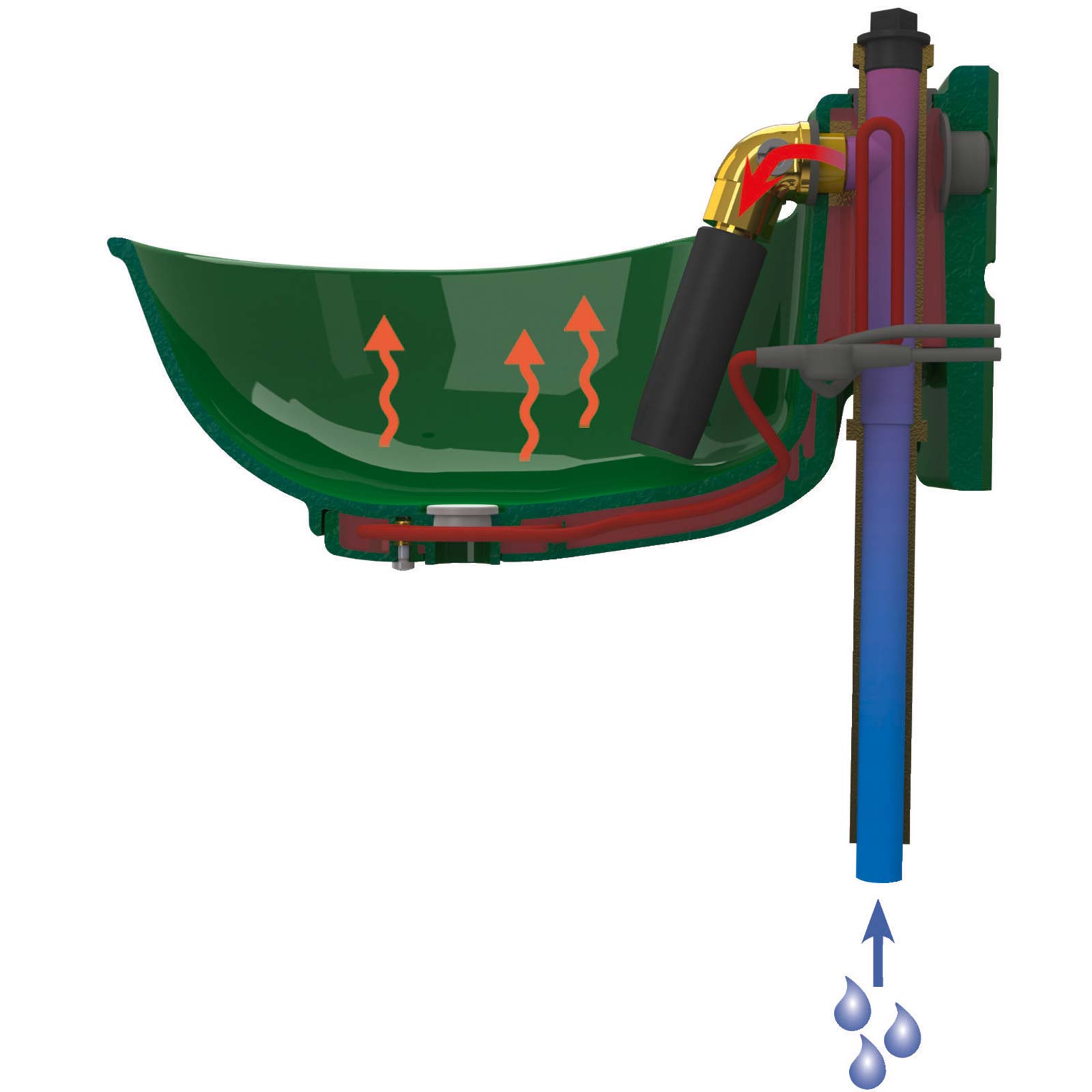 Heatable plastic water bowl HP20 with pipe valve 73 Watt 230 V
Only 1 available
Available, delivery time: 1-3 days
Buy this product to earn 11 loyalty points!
Heatable plastic water bowl HP20 with pipe valve 73 Watt 230 V in a nutshell:
water bowl with integrated heating cable
optionally with auxiliary pipe heating
heating cable easily exchangeable
integrated frost protection thermostats
suitable for circulated heating systems
Product information
The water bowl HP20 with integrated heating cable and frost-protection thermostat is optimally kept frost-free in winter!
Here you will find a heated cattle and horse water bowl made of high-quality plastic (PP) with integrated and easily replaceable heating cable. The integrated frost-protection thermostat switches on at +5 °C and switches off again at approx. +13 °C. The cover on the bottom of the basin and the closed construction in the area of ??the valve inlet have an insulating effect and prevent the heat emitted by the heating cable from escaping.
The heated bowl is suitable for circulation heating systems and is equipped with a drain plug for easy and quick cleaning. The Kerbl self-heating self-trough has a ½-inch top and bottom connection and is suitable for pipe and wall mounting. The frost-proof water bowl is available with two voltages (230 V or 24 V) and optionally with a pipe heating system. The heatable animal cabinets are frost-proof up to about -25 ° C.
Overview:
water bowl made of high quality plastic (PP)
with integrated heating cable
heating cable easily exchangeable
Iintegrated frost protection thermostat
smooth pipe valve made of brass
adjustable water flow (up to 11 liters / minute)
½-inch connection from above and below
for wall and pipe mounting
incl. drain plug
suitable for circulation heating systems
optional: auxiliary pipe heating (approx. 2 meters)
Dimensions:
weight: about 2 kg
bowl volume: 2.8 liters
Models:
water bowl with auxiliary pipe heating, 73 watts, 24 volts
water bowl with auxiliary pipe heating, 73 watts, 230 volts
water bowl without pipe heating, 31 watts, 24 volts
water bowl without pipe heating, 31 Watt, 230 volts
Note: For the 24 V version a transformer is required (not included!)
Delivery:
1x heatable plastic water bowl with pipe valve HP20
1x valve
1x user manual
Optional: 1x auxiliary pipe heating (heating cable for approx. 2 meters of pipeline)
Country of origin:

EU

Capacity:

31 W

Animal species:

Cattle

, Horse

Material:

Plastic
Data according to manufacturer. Errors and changes reserved.
Manufacturer "Kerbl"
Kerbl - Tradition Meets Innovation in Agriculture
Kerbl is not just synonymous with decades-long expertise in the field of animal accessories, but also for a deep commitment to Agriculture. As a globally operating company, Kerbl offers an extensive range that spans from agricultural products to equestrian and pet supplies, and even to barn, farmyard, and fencing Supplies. With over 50 years of success story in animal breeding and husbandry, Kerbl continuously strives to simplify the everyday tasks of farmers, breeders, and animal lovers through innovative Solutions. Experience the world of Kerbl - where tradition and progress go hand in Hand.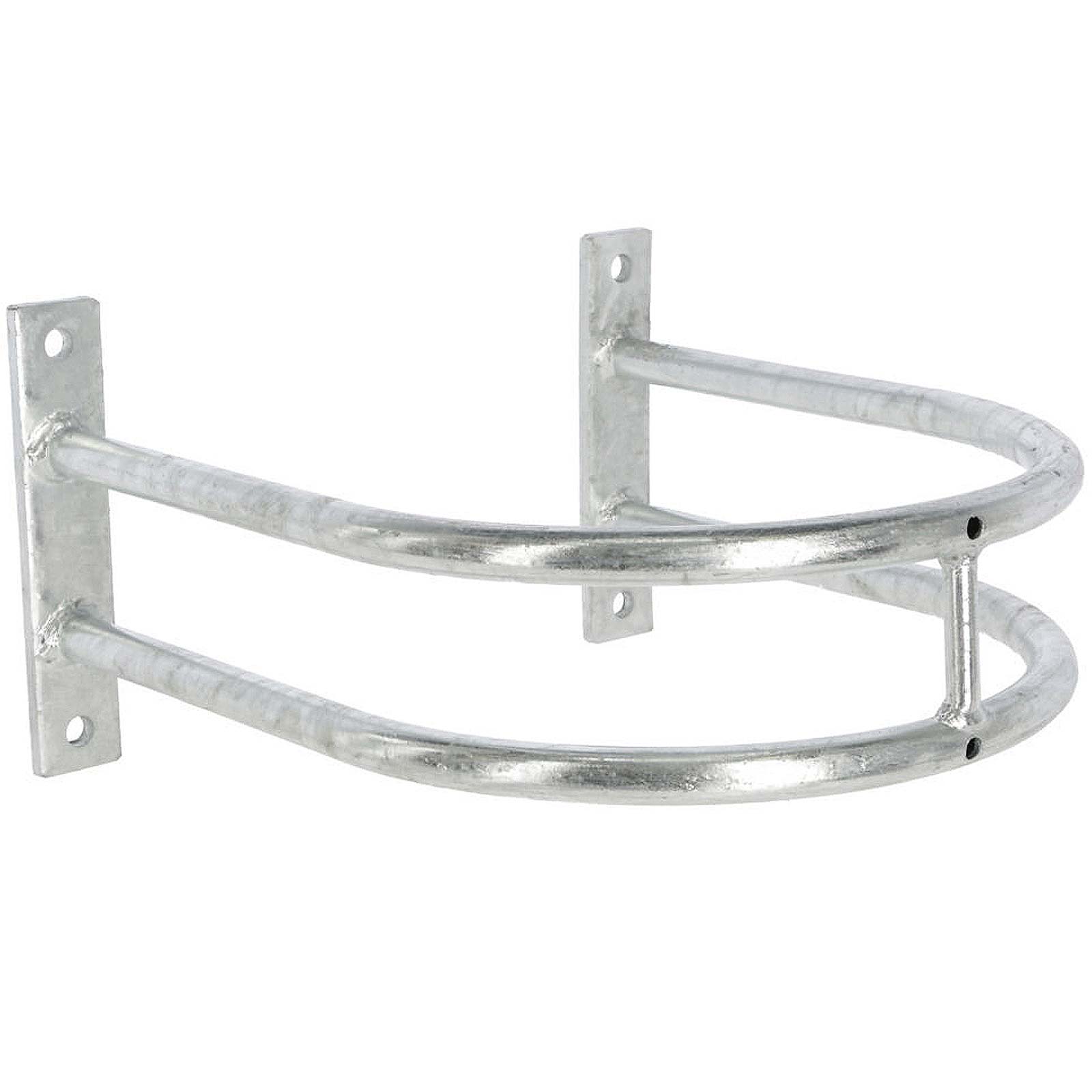 Protection Bracket for Water Bowls M
Protective bracket for drinking bowls - Robust impact protection for your drinking bowl The protective bracket made of hot-dip galvanised steel not only protects the drinking bowl from damage, but also your animals from injury! With the protective bracket made of hot-dip galvanised steel tubing, your drinking trough is optimally protected against knocks and kicks. This increases the service life of the drinking trough many times over. The bracket also protects the animals, as the impact protection prevents injuries to the (possibly already damaged) drinking trough. The bracket can be screwed directly to the wall, is available in three sizes and is therefore suitable for various tube valve, tongue valve & float valve drinkers. At a glance: Prevents damage to the drinking bowl protects the animals from injuries Protection bracket made of hot-dip galvanised steel tube Available in 3 sizes for different drinkers Long-lasting and robust impact protection Easy to mount on the wall Size S: Width: 24 cm Depth: 30 cm Height incl. mounting plate: 20 cm Suitable for these Kerbl drinking bowls: 22360, 22375, 22378, 22465, 22466, 22500, 22504, 221000, 221851, 221500, 221600, 221853, 221870, 221871, 221874, 222000, 222005, 222010, 222020, 222030, 222500, 222709 Size M: Width: 29 cm Depth: 34 cm Height incl. mounting plate: 20 cm Suitable for these Kerbl drinking bowls: 221860, 2218605, 221875, 221876, 222040, 222045, 222050, 222055, 22445, 22355, 225030, 225031, 225032, 225033, 225035, 222070, 222062, 222063, 222064, 222065 Size L: Width: 41 cm Depth: 36.3 cm Height incl. mounting plates: 22 cm Suitable for these Kerbl drinking bowls: 222070, 222062, 222063, 222064, 222065, 22195 Scope of delivery: 1x Protective bracket for drinking bowls made of hot-dip galvanised steel Screws not included in delivery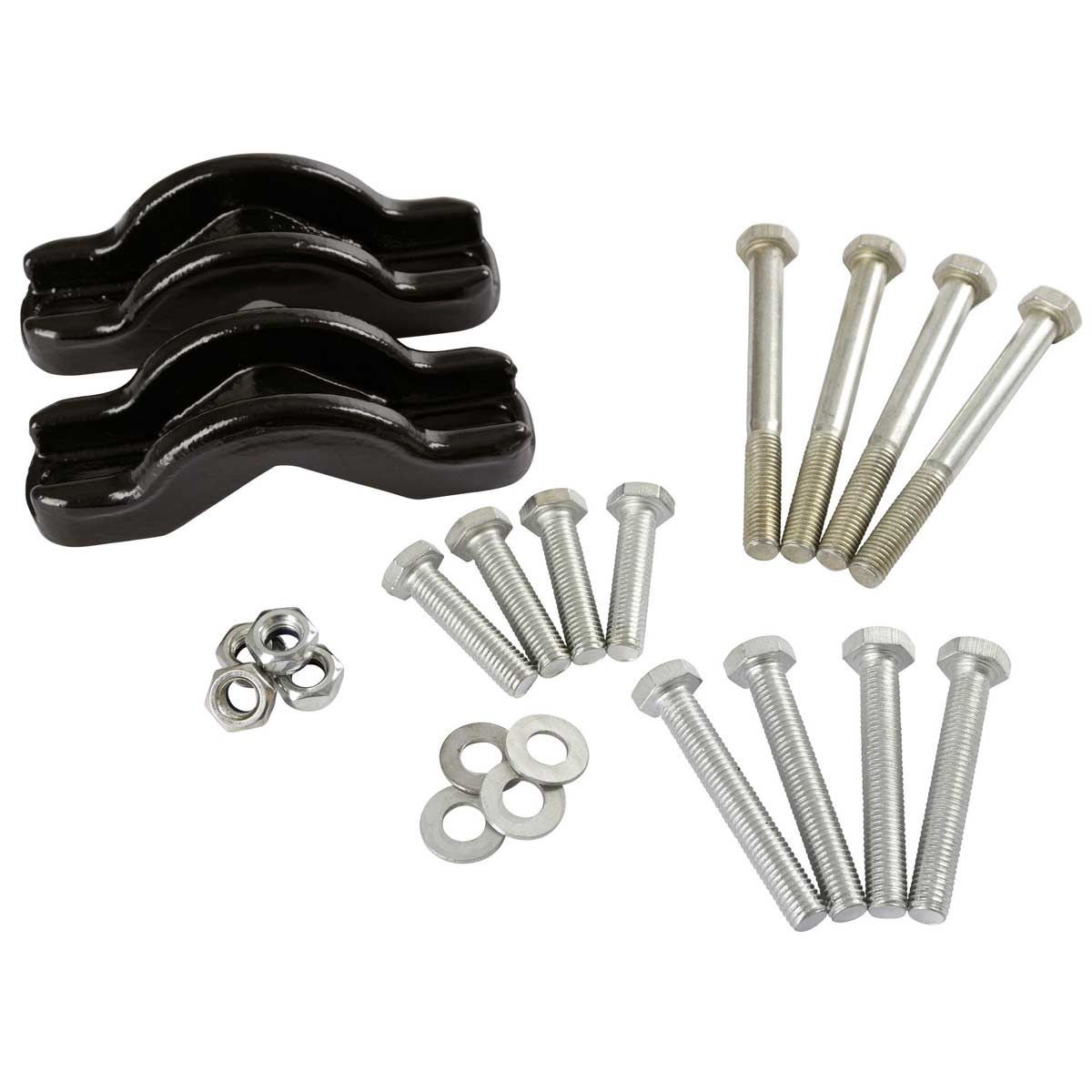 Mounting brackets for water bowls, in pairs
Pipe mounting bracket, in pairs - for Kerbl water bowls With the mounting bracket, the potions can be attached directly to the pipe! The drinking basin can be attached directly to the pipe with the mounting brackets. Due to the different screws included in the scope of supply, the drinking bowl can be attached to pipes with a diameter of 30 to 120 mm. The required nut and washers are included. Overview: mounting bracket, 2 pieces cast iron, enamelled suitable for Kerbl potions diameter from 30 to 120 mm easy screw mounting Delivery: 2x mounting bracket 4x screws, 120 mm 4x screws, 80 mm 4x screws, 50 mm 4x washers 4x stop nuts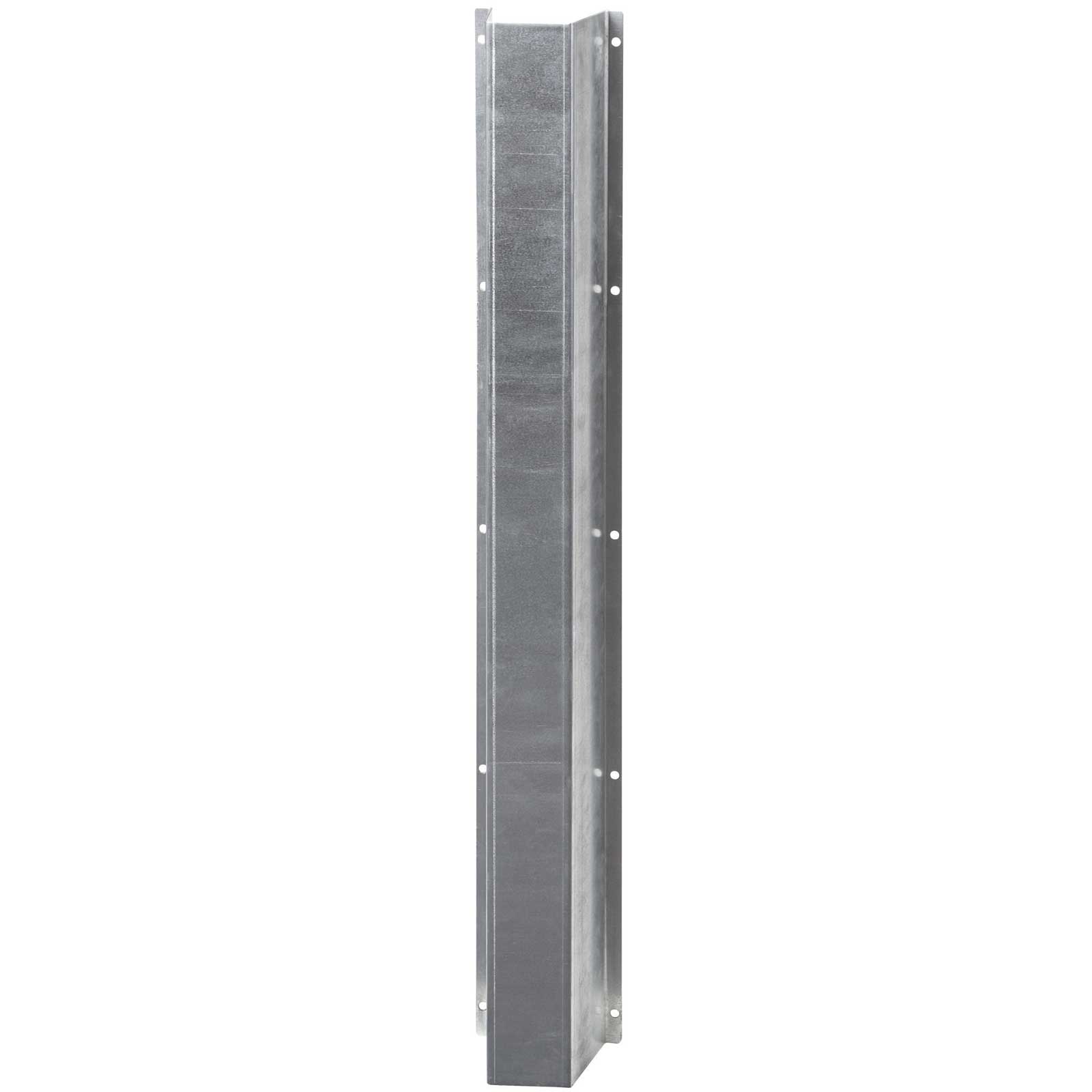 Browsing Protection for Pipelines
Browsing Protection for Pipelines - galvanised The Browsing Protection is a reliable protection for pipes fitted with heating cables and insulation. Overview: electroplated galvanised steel material thickness: 1 mm Size: 100 x 13,2 x 8 cm (L x W x H)